4921 Listings For Sale in All States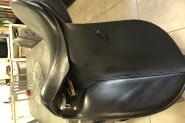 Beautiful Lemetex Bernina Dressage Saddle 18"'seat narrow gullet unmounted Very balanced saddle Will swap for wide gullet
3HAL LUX CAMPER- Due into Stock mid August, Please enquire More Stock arriving weekly, please ask for details. 2017 REGENCY 3 HORSE LUXURY EXTENDED ANGLE FLOAT. ALL REGENCY FLOATS COME WITH RE-ENFORCED ALUMINUM FLOORS AS STANDARD, WHICH DO NOT R...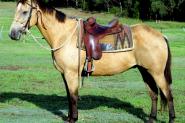 QUIET BUCKSKIN PURE QH GELDING 'DANDY' Stands around 15 hh and is 11 years old. Age branded and stud branded. Very nice type. Anyone who can hold the reins can ride this guy. A ch...
Tomas is a exceptional young clyde X that is approximately 16.2 hh, he has been brought on slowly and correctly, to make sure that he has the perfect grounding for a promising career. Tomas works in a lovely soft frame with a superb trot and a bea...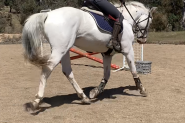 Super dressage or eventing prospect looking for his perfect home. Cayuse King of swing "Ghost" 15.1hh 4yo Knabstrupper (Warmblood) X gelding. By Loris Flashpoint Af Lyn ( Imp GER) out of Cayuse Dancin Queen (IFS). He was bred to ...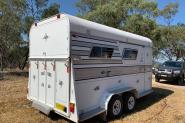 2008 Stallion 3HAL Deluxe Rego until December 2019 Brand New Gas Sruts on the tailgate Basic cupboards in the front and swing out tack box. Drop rubber between first and second bays. Brackets included for yards, yard panels can potentially be...
Splash is a 9yo Haflinger cross 13.2hh gelding. He is easy to keep and is a safe, enjoyable ride for all levels, even beginners. Splash has been used in the riding school and is great for all levels. His only vice is that he may kick out if a hors...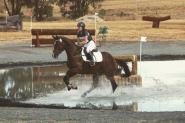 Warmblood x Thoroughbred mare being sold as a broodmare. Diva is a well travelled mare that has schooled up to pre-novice eventing and Medium level dressage. Good to shoe, clip, float, great in the crush, to inseminate and has in the past been li...