2959 Listings For Sale in All States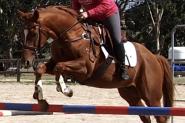 Verified Seller
"About Time" Chesty is a 15,2hh 12yo Tb. He is a dream horse to do anything with from clipping to taking out he would suit just about anyone wanting a small TB., Chesty has those show horse looks, lovely relaxed movement for dressage an...
3HAL LUX CAMPER- Due into Stock mid August, Please enquire More Stock arriving weekly, please ask for details. 2017 REGENCY 3 HORSE LUXURY EXTENDED ANGLE FLOAT. ALL REGENCY FLOATS COME WITH RE-ENFORCED ALUMINUM FLOORS AS STANDARD, WHICH DO NOT R...
QUIET VERSATILE STOCK GELDING 'Traveller' Bay Stock Horse Gelding. Stands around 15.2 hh and is approx 15 years old. Very kind boy and tough as nails. Runs barefoot, no rubbing or itches.Will tie...
**HEAVILY REDUCED** MUST SELL** 15 1/2" Santa MK 111 Revolver Swinging fender with roping horn. Quarter Horse Bars. 7" gullet. Made by James Saddlery in 2013, but has been only been used a handful of times, as the size was too narrow for the hors...
14 year old broodmare. AQHA registered. Has had one foal without hassles. Easy to c/f/t. Unridable due to old injury. Good with other horses. AQHA no: Q-57265
Major is a beautiful 15 year old 11-12hh Welsh A gelding. This stunning palomino would suit as a lead pony for a youngster. Major can be lead off other horses, is unfazed by traffic and loves trail riding. He has been ridden by ages 6-18. Major ha...
Solidgold Supremecy is coming home. He will be available to limited mares at stud ,in Maryborough, Vic. He has ROM at halter and is also Upgraded to AAA to cover Appaloosa. He is an outstanding stallion, with beautiful temperament he passes...
Rising 4 yr old bay quarter horse x Stockhorse filly. Currently 14.3 hands high still growing. Lovely nature girl who is great to ride and very quiet to handle. Broken into spurs and a back girth. Good to wash/float/shoe/catch/ and overall a pleas...