4525 Listings For Sale in All States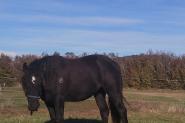 Firestone Lodge proudly offers the following rising 2 year olds. All are well handled and ready to go. Firestone Lodge Arlo - Gypsy Cob X gelding. EMH 16+HH. Black $5000 Firestone Lodge Aria - black and white filly. EMH 14+HH. Gypsy Cob sire...
3HAL LUX CAMPER- Due into Stock mid August, Please enquire More Stock arriving weekly, please ask for details. 2017 REGENCY 3 HORSE LUXURY EXTENDED ANGLE FLOAT. ALL REGENCY FLOATS COME WITH RE-ENFORCED ALUMINUM FLOORS AS STANDARD, WHICH DO NOT R...
11yo, 16.2hh Arabian Warmblood Mare Triple registered with ACE, AWHA & AHSA. Sauté bloodlines. Proven broodmare has had a couple of lovely foals and is an easy breeder, great to foal down. Lovely big mare with great conformation and athletic mo...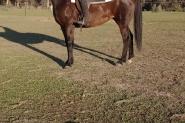 Polly is one of the friendliest and quietest horses you will find. She catches you in the paddock. Polly can be ridden by people of all abilities as she has no nasties, no spook and is genuinely quiet. She has done miles of trail riding through bu...
6yrs old, 12.2hh mare, Reg APSB Dam: Moondale puff Sire: Moondale Hustler Quality black mare with a great temperament, handled by my 9year old daughter. Easy to do everything with including wash, float and clip. Patience would be suitabl...
6 year old Shetland mare 9.2hh. Lovely nature, easy to do anything with, enjoys attention. Very easy maintenance, tethers. Good for companion and great on her own. Ridden independently by children of different ages. Soft mouth. Excellent on lead...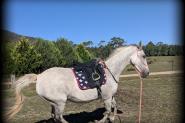 Llamrei is a 16hh 13yo Registered, papered , Arabian warmblood mare, solid type Is a very sad sale and if the perfect home isn't found she will stay with me , I just feel such a great horse is being wasted by standing around the paddock when...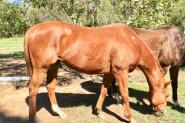 Windfleet' (paddock name Redman) 16.2hh Chestnut TB 8yr old Gelding d.o.b. 2/10/2010. Originally came up from Victoria & only raced at Gympie (my daughter rode him track work) & the Sunshine Coast for a short time. I've had this boy since c...