224 Transport For Sale in All States
3 HAL CAMPER FLOAT, KITCHEN, BE...
3HAL LUX CAMPER- Due into Stock mid August, Please enquire More Stock arriving weekly, please ask for details. 2017 REGENCY 3 HORSE LUXURY EXTENDED ANGLE FLOAT. ALL REGENCY FLOATS COME WITH RE-ENFORCED ALUMINUM FLOORS AS STANDARD, WHICH DO NOT R...
4 Horse (5 pony) Refurbished Hor...
!!!!!PRICE REDUCED!!!!! $35,000 4 Horse (5 pony) Horse Truck 1985 MITSUBISHI FM 515FS (TURBO) DT4 DIESEL 10 SP MANUAL C/CHAS Mechanically sound (unregistered). Has current roadworthy and brakes have just been replaced. Mechanics say ...
2000 Stallion Deluxe 3 Horse Ang...

Horse truck 3 horse angle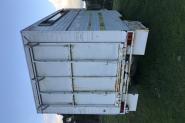 Ford f 350 1976 Motor 351 4speed runs very good LPG 3 horse angle load Electric tail gate winch In good condition need some work No reg or RWC 90% tyres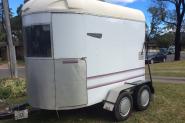 No rust, very sturdy, 9 months rego, brakes just overhauled (receipt), not suitable for big horses. Hardly used.
2 Horse Float Straight Load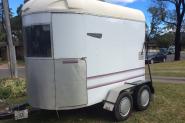 Very good condition, solid,brakes over hauled (receipt), 9 months rego. Easy to tow, not suitable for large horses.
Truck Motorhome with Gooseneck T...
1996 Nissan UD, 355912kms, 4.8m long x 2.4m high fitted with 3" ball, generator, slide out BBQ, underbody toolboxes, 42" plasma TV, microwave, fridge, lounge, bunks, overhead cupboards, roof viewing platform with gates & ladder access, reverse cyc...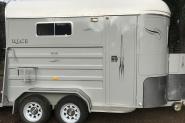 Rice Australian made extended with front tack box Electric brakes model Excel 2010 Excellent condition very well looked after Removable and adjustable padded chest bars Removable blue and padded centre devider Roof vent side steps and back step St...