909 Saddlery For Sale in All States
Stan Bowd stock saddle 15 inch suit new buyer ridden in once daughter has given up riding full size bridle breastplate and plaited reins also available 0417434957
BRAND NEW GLEN DAVIS "SHOWMAN" F...
Brand new Glen Davis "Showman" fender saddle 15" plus matching breastplate. Never used as too small so out it goes. Photos assist with the description of this saddle. Price is firm. Buyer to pay postage or pick up is available
BRAND NEW CHILDREN'S PAD MADE BY...
Brand new Simmons, Armidale pad with 36" Grills Girth (Combination girth). Includes pad cover for transportation. Lined with thick blue felt. Perfect condition. Looking for $850 plus buyer pays postage
Barefoot Cheyenne Treeless saddl...
Barefoot Cheyenne leather saddle size 1 Complete package for sale! Only used twice! Cheyenne brown leather saddle size 1, Cheyenne physio pad with foam and rubber inserts, Stirrup leathers, Saddle cover, Pommels x 2 - size M and L, Baref...
Unmounted 17 inch Changeable gullet. Currently has orange (medium) trainers gullet Good girth points.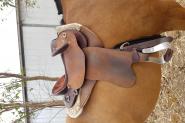 Leather rough out, 8inch gullet 16inch seat. Used for 2 months and decided to stay with english saddles. Fits broard qh types, comfortable, has leather oil stains on seat, comes with 34inch girth and saddle cover. $500 contact Sarah
17 inch seat Adjustable Kieffer tree Medium size at the moment, this sizing fit my lean Anglo Arab as well as my chunky broad TB Synthetic Extremely light weight (7kg unmounted) Comes fully mounted, stirrups are also extremely lightweight ...
A solid leather saddle made in Romania by Hubertus. Second hand . Good condition. 18'