553 Saddlery For Sale in All States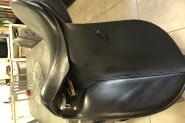 Beautiful Lemetex Bernina Dressage Saddle 18"'seat narrow gullet unmounted Very balanced saddle Will swap for wide gullet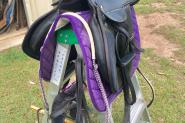 Kincade' Saddle Pack includes: - 16" saddle with girth, stirrup leathers, stirrups & feet pads. - 'Roma' purple saddle cloth. - Bridle with 'Tom Thumb' bit, leather reins, nose band. - Purple sporting reins. - 3x extra egg butt b...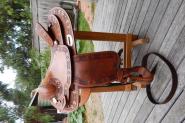 Saddle gullet approx. 7", 16.5" seat. Wrangler felt Cinch by Pro Choice. 36" 90cm. Western felt saddle pad 32" x 30". All stored indoors, VG condition. No longer riding. More photos available.
16 1/2 inch Black PDS Euro Dressage Saddle in excellent condition mounted with Mal Byrne anatomical girth, Bates leathers, XW and XXW gullet. Priced to sell at $1800.
PH Grande dressage saddle. 17inch. Great condition. Brass name plate on the back (blank). Very dark brown. Really comfy and great leather. Surplus to needs. Adjustable by saddler. Gullet measurement in pics. Comes with saddle cover. Advertised els...
17" wide wintec 500, fully mounted, excellent condition, lightly useddue to horse changing shape, changeable gullet
size 0 cavallo boots good cond postage is free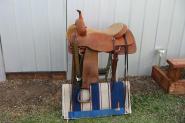 Circle Y cutting saddle. Full size 17 inch. Hardly used, in vgc. Saddle pad included. Email enquiries: lynnotes@outlook.com