553 Saddlery For Sale in All States
For sale Black leather jumping saddle Is in excellent used condition 16.5inch seat All girth points are in great condition Comes mounted Lovely saddle to ride in and is in great condition. Always well looked after Please see meas...
Bates black all purpose saddle, approx. 16.5" (not Cair). Fully mounted, very good condition, has had little use. Saddle no longer required, as no longer able to ride. Always stored indoors. Stand included.
Bought for a horse I no longer own. Used only a couple of times. New condition. Designed by the Spanish vaquero for long hours in the saddle working horses with cattle. Comes with surcingle and crupper and beautiful ornate stirrups. Super comfy...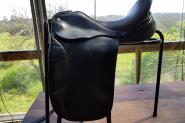 Beautiful Ainsley dressage saddle Vanguard popular size 17 1/2. Made in England. Come with a 60cm lamicell girth. Selling due to have only ponies. Pick up Macclesfield Vic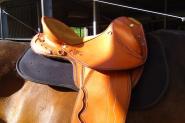 Stunning hand tooled leather stock style swinging fender saddle. Brand new, unfortunately does not fit my horse. Comes with matching brass and leather stockman bridle and breastplate. Felt wool lined, and narrow gullet. Purchased brand new from Ho...
OACAR brand LARGE electric clippers. (same as Sunbeam) Great for clipping horses or cattle. Come with 2 sets of blades. In excellent working condition. Not using anymore so selling. Price $250 Can post. Located at Pampoolah, Taree. NSW. Ph: 04283...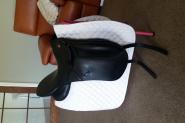 Beautiful black Kieffer Lusitano dressage saddle in excellent condition. Size 1 (which is 17in) with a medium gullet that can be adjusted by a saddle fitter. Refer to the website for a full description; http://www.kieffer.net/en/saddles/dressa...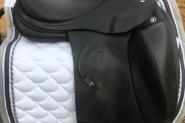 Black 17inch Prestige Verona Monoflap Dressage saddle. Only 2 years old (2016 model). Size 34 gullet. Very comfy saddle. Retails for $5495, selling for $3,500. Can freight at buyers expense