75 Listings For Sale in All States
Sweet tempered, pretty brood mare. Maple is broken-in and was used for pleasure riding but has not been ridden for several years. The last 5 years she has just been used as a brood mare. Still has last year's foal at foot so able to be viewed too....
KN Symphonie dressage saddle, 17 inch, black, wide gullet. In great condition with a small mark on the cantle. Unmounted but with saddle cover (not KN) I bought for my 3yo who has outgrown it. Sad sale of a beautiful saddle. More photos ava...
Quiet unbroken 4 yr old. Done lots of ground work just don't have time to further educate. Very willing nature not a mean bone in his body. Would make great trail or endurance horse with training. Loves people and to please.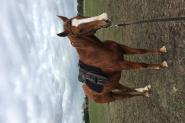 Blaze has come off the truck from Vic. Worked in feedlot and used for trail riding.Purchased 2 months ago. Don't have the time and experience he needs to bring out his full potential. Project type. He is quiet but needs an experienced rider. Can...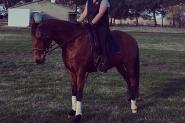 For Sale Reg ASH mare Imagine Wishmaker C1-190731 12yo, approx. 14.2hh Flashy little mare. Had two foals previously. Would make great broodmare. In work and ready to go on with. Working in a frame at all paces. Needs a confident, experi...
Sad sale due to no fault of her own I just don't have enough time to continue her education under saddle. Abby is a lovely 13 year old bay Standie mare. She loves to jump, is jumping around 60cm at the moment but has room to go higher. She is sti...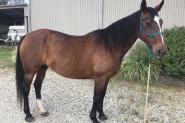 Well breed broodmare, easy to keep and good mum. I have retained her foal from last year. Last foal was Chilled AI but she has had frozen and live cover foals. Would like to see her go to a good home she is aged but keeps really well and still wou...

Sid is a 3yo Bay Thoroughbred Gelding, orignally purchased to be a racehorse. After extensive scopes and X-Rays we have discovered Sid has a tooth that has not come through yet that is on an angle, resulting in slightly less air going in and ou...