69 Listings For Sale in All States
Once inspected, this one-off pure luxury unit shall simply sell itself with the finish, the inclusions and its pure class . Most importantly the JOY, CARE & SAFETY LEVELS for both horses & owners This without any doubt would have to be one of bes...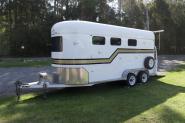 Australian made 4 horse extended float with 3 horse bays; kitchen with sink, fridge, drawers and cupboards- ample storage for clothes and utensils overhead enclosed storage; external water supply; dividers have telescopic removable end saves ...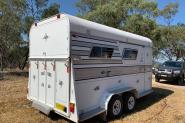 2008 Stallion 3HAL Deluxe Rego until December 2019 Brand New Gas Sruts on the tailgate Basic cupboards in the front and swing out tack box. Drop rubber between first and second bays. Brackets included for yards, yard panels can potentially be...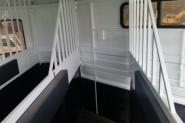 2017 with all the bells and whistles great to tow firet registered in april 2018 used approx 10 times mainly to train my baby however he grew bigger than expected so i need to get a bigger straight load happy to swap if you have an extended ...
Australian made, tows great. Always shedded. Near new tyres, electric brakes, rocker suspension, stallion divider, rear storm cover, saddle rack in tack box, split tail gate, rug rack, removable dividers and chest bars, Led lights. Extended heigh...
Divine Prophecy, Aka Danny is a confident allrounder competing in dressage, showman and show jumping however, eventing is definitely where he shines. He has scored up to 73% in prelim, jumped up 1m courses with ability to turn on a dime and is cur...
Tomas is a exceptional young clyde X that is approximately 16.2 hh, he has been brought on slowly and correctly, to make sure that he has the perfect grounding for a promising career. Tomas works in a lovely soft frame with a superb trot and a bea...