520 Listings For Sale in All States
Once inspected, this one-off pure luxury unit shall simply sell itself with the finish, the inclusions and its pure class . Most importantly the JOY, CARE & SAFETY LEVELS for both horses & owners This without any doubt would have to be one of bes...
For the last 5 years our family has run a successful Equestrian business from our property. Providing the community with Equine based programs for the public as well as disadvantaged youth in the region. Programs have ranged from handling and ridi...
Two horse angle load for bigger horses for sale. This float has extended bays at 2.8m in length and 800mm wide. Clothing cupboard Overhead cupboards Microwave Fridge Radio and Speakers Caravan door Drop down windows Internal lights Fiamma Awni...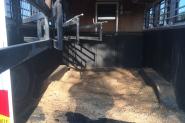 Volvo fm12 2003 12 speed auto Macro 36ft 1999 aircon, fridge, tv, shower, 4 horse angle load. Many more extras.
1996 Nissan UD, 355912kms, 4.8m long x 2.4m high fitted with 3" ball, generator, slide out BBQ, underbody toolboxes, 42" plasma TV, microwave, fridge, lounge, bunks, overhead cupboards, roof viewing platform with gates & ladder access, reverse cyc...
2004 Barb trailer 38ft long 8ft wide, that suits both prime mover and body truck. Horses area – 9 horse flat load with fixed head & rope dividers, underneck chest boxes accessible from both inside & outside with full length rug rack, hydra...
Comfy Home away from home. 38ft Long x 8ft Wide. 4 Horse Side Travel/Rear Loading. Features include Overhead Storage, Side Storage & Front Storage Compartments. Rubber Non Slip Floor. Saddle Racks & Bridle Hooks. Luxury Living Quarters includes: ...