3735 Horses For Sale in All States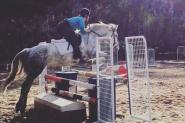 15 HH dapple-grey very obedient mare. Dee Dee has done all three disciplines, loves games and bareback and enjoys trail rides. We got Dee Dee as a 3 year old and have had her ever since. She is a beautiful, strong and sound mare with the potential...
Ashmay Cooper Q-48448 Sire Q-1490 Hank Man Leo (IMP) Dam Q-6603 Chex's Queen 14.1 hh 15yr old gelding cutting trained and showed, also worked on mechanical cow, team penning, mustering, campdrafted, tracked cattle and had started to have rope ...
Beautiful bay Tobiano filly. Born 4/12/2018. Sire is Tobiano Paint Quirran Lea Smokin Lena ( By Amaroo Little Bobby Lena, top class reiner) Dam is Minniesoda , overo paint mare with sprint lines ( Thundering jet) Lovely temperment , very eye catch...
Barraband Madeline London is a Thoroughbred X New forest (by Wayland Loganberry) standing at just 15hh. Affectionately London is known as our resident overgrown Shetland, she is solid as anything, will go all day and is incredibly honest. A late ...
SANBAR KASHMIR KREAM 'Pearl' $2,800 (DA pending AQHA PR eligible) 2018 Cremello Quarter Horse Filly Born 24 March 2018 Colour tested ee, Aa, CrCr, non silver, non pearl Matured approx. 15.2hh Located Near ESK QLD Price...
Due to a lack of feed, I have 4 quiet shetland-bred geldings for sale, all approx 9.3hh: Black buckskin & white - 6 yo, **sale pending** Black with white socks - 5yo, **sold* Taffy palouse x shetland - 5yo,**sold** Chestnut & white - 4yo (must...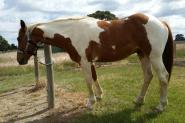 Beautiful kind boy. Quiet to handle in every way. Good conformation. In work going nicely, very trainable. Has 3 smooth paces, soft responsive mouth. Self loads, good to tie, trim feet, wash, lunge. Suit someone who is an experienced rider to bri...
Green broken. Jeronimo has a very loving nature. Beautiful floating action. Comes straight up to you in paddock. Easy to float shoe clip ect. Genuine buyers please. No holds. No payment plans.