80 Listings For Sale in All States
16.2 hh, Sport horse gelding for Sale in Dorset. Good looking chap with a very kind and honest temperament. He has a lovey big shoulder and movement. Bold, athletic and honest in his jumping, both xc and sj. Very sensible for a 5 yr old in traffic...
Meet Big Ted. He is a 16.3hh 5yr old super sports horse model. Unfortunately no breeding is recorded though. Has been well produced over the last few years and has done a bit of everything. Is nicely schooled on the flat with excellent transitions...

Sid is a 3yo Bay Thoroughbred Gelding, orignally purchased to be a racehorse. After extensive scopes and X-Rays we have discovered Sid has a tooth that has not come through yet that is on an angle, resulting in slightly less air going in and ou...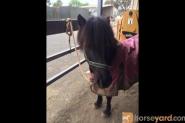 Flicka is a forward moving 11 yr old Shetland cross mare. Used as a lead line for 4yr old at pony club, team yarding and trail. Can be ridden by experienced children.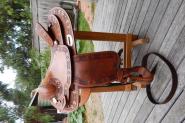 Saddle gullet approx. 7", 16.5" seat. Wrangler felt Cinch by Pro Choice. 36" 90cm. Western felt saddle pad 32" x 30". All stored indoors, VG condition. No longer riding. More photos available.

barely used yack for sale due to horse passing away.Italian leather saddle was $2500 now $1000 Interchangeable bridle/halter red was $260 now $200 black numner $20 water coolant backpack hands free $60.mohair anti gall girth $40

As new condition due to horse passing away.Italian leather saddle 16 inch was $2500 now $1000 Zilco bridle/ halter combo red was $260 now $200.Black numner $20 hands free water coolant $60 mohair anti gall girth 87cm $40.Photos available on reques...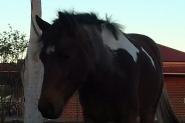 Part Welsh x Part Clydesdale gelding rising 5, Pinto, unbroken, well handled very relaxed Pony that catches you in the paddock. 13.1 -2hh. Eligible for pinto registration, Perfect Childs/Teen Pony. Knowledgeable Kind Home sought. 0404 666 607 Lo...