294 Horses For Sale in All States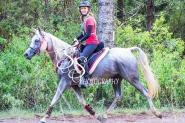 M'Adore is a beautiful forward moving endurance mare. Always willing and gentle. Excellent during vetting and assembling at events. Good in the hills and flat endurance rides. Extremely good in traffic,trucks & motorbikes etc. A pleasure to c...
Down N' Dusty Loot PHAA 16751, APHA 1,458. Red dun overo Paint gelding. DOB: 27/10/17 PSSM negative. Sire: First Down Imp USA (dec) Dam: Shasta Be Loots by Loots Image Imp USA (dec). Dusty has been lightly shown as a weanling and yearling and h...
Rising 2yr old, chestnut turning grey purebred Arabian colt. Registered/comes with papers, from good bloodlines that are proven in endurance, showing and dressage. Very leggy boy that will mature about 15.2hh, his mum was 15.1hh and dad was 15...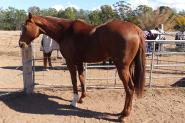 15hh 11yo unraced TB mare No vices easy to do anything with wash, float, rug, worm. Suit trail riding has done pony Club, dressage, shows and jumping with previous owners. We have only jumped, sported and trail ridden her. She doesn't like sporti...
ASH/QH Registered Mare Proven breeder, approximately 15hh. We have used her mainly as a brood mare due to the number of horses we have but can be ridden. Selling for $3500 (empty) or $4000 in foal to Mount Kew Smokin Roy. Currently in paddock c...
Barindale Passion Pop is an 8yo (9 in December), 14.3hh riding pony gelding whom we have had since July 2015. Bought for my then-11yo daughter, he has attended pony club, jump club, and interschools, competing 70cm, jumping regularly at home 70-80...
Her name is Spirit she is around 12 Hands and 13 Years of age. She is quiet to handle but when in Season she is very highly spirited and hard to control when being ridden. She needs an experienced rider who can ride her through the initial stag...