81 Listings For Sale in All States
3 x miniature ponies I would like to go together, Stallion, Mare and filly Stallion 14 years - Registered MHAA Extreme Manpower, Buckskin Overo, lovely nature Mare 4 years - Miniature Pony - foal certificate - Palamino and White little bit shy ...
Yearling 50% American Shetland Small horse Show gelding. Triple Reg. Shown at one show (MHAA Nationals) receiving Grand Champion. Very sweet natured boy, loves kids. Handled by 6yo twins. Comes with his rugs. Located Toowoomba QLD. However, I...
For sale Black leather jumping saddle Is in excellent used condition 16.5inch seat All girth points are in great condition Comes mounted Lovely saddle to ride in and is in great condition. Always well looked after Please see meas...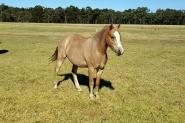 Advertising for a friend (please phone Jan.) Loki is a Welsh Pony Gelding 5 years old, unbroken, about 11hh-12hh (not measured) Beautiful temperament. Loves other horses and people, used to dogs and other farm animals. Can lead and float. No time...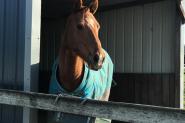 'Autumn' 4yo chestnut Thoroughbred mare Jeune winner of Melbourne cup in 1994 is her grandsire. roughly 15.2hh not officially measured I bought Autumn as a rescue, have got her healthy and now she is ready for her new home. She prepped, but nev...
Riding pony x Stock horse Romelda has a very soft and cuddly temperament, she is very outgoing and willing to do anything (dressage, trail, x country etc). Selling her as a project because she has been out of work for about a year and a half. It...
Bay miniature mare with 1 blue eye with colt foal Carries Splash gene 34 inches registered
Ally is approx 8 years ( no DOB) gorgeous pony, nice nature, would be suitable for a paddock pal or broodmare and nice confirmation ( not registered )... Not sure on height possibly 8hh . Loving horsey home only. Going to waste in paddock as G...