78 Listings For Sale in All States
3 x miniature ponies I would like to go together, Stallion, Mare and filly Stallion 14 years - Registered MHAA Extreme Manpower, Buckskin Overo, lovely nature Mare 4 years - Miniature Pony - foal certificate - Palamino and White little bit shy ...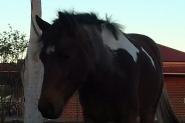 Part Welsh x Part Clydesdale gelding rising 5, Pinto, unbroken, well handled very relaxed Pony that catches you in the paddock. 13.1 -2hh. Eligible for pinto registration, Perfect Childs/Teen Pony. Knowledgeable Kind Home sought. 0404 666 607 Lo...
Dutchess (named by my daughter!) is a 17hh 4yr Old. Broken at the start of last year and produced slowly to allow her to mature. This lady is as talented as they come. She has now hunted on a few occasions, has done some cross country schooling ...
Rio 16.2 hands 9 years A great horse who is a real head turner for all the right reasons. Rio has 3 very naturally balanced paces with great cadence. Established lateral work and changes on the flat. Rio is a proven performer in the dressag...
Yearling 50% American Shetland Small horse Show gelding. Triple Reg. Shown at one show (MHAA Nationals) receiving Grand Champion. Very sweet natured boy, loves kids. Handled by 6yo twins. Comes with his rugs. Located Toowoomba QLD. However, I...
For sale Black leather jumping saddle Is in excellent used condition 16.5inch seat All girth points are in great condition Comes mounted Lovely saddle to ride in and is in great condition. Always well looked after Please see meas...
Trinity Wild Ivory, Part Bred Welsh Filly 2.5 yrs,Mature 12.2hh Registered. Very friendly filly, in your face, catches you in the paddock, perfect child's pony, very well handled. Experienced Kind home sought. Dural NSW, $850 0404 666 607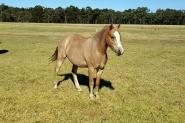 Advertising for a friend (please phone Jan.) Loki is a Welsh Pony Gelding 5 years old, unbroken, about 11hh-12hh (not measured) Beautiful temperament. Loves other horses and people, used to dogs and other farm animals. Can lead and float. No time...