51 Saddlery For Sale in All States
PH Grande dressage saddle. 17inch. Great condition. Brass name plate on the back (blank). Very dark brown. Really comfy and great leather. Surplus to needs. Adjustable by saddler. Gullet measurement in pics. Comes with saddle cover. Advertised els...
17" wide wintec 500, fully mounted, excellent condition, lightly useddue to horse changing shape, changeable gullet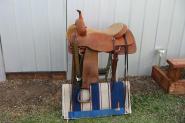 Circle Y cutting saddle. Full size 17 inch. Hardly used, in vgc. Saddle pad included. Email enquiries: lynnotes@outlook.com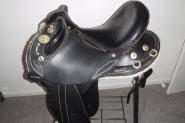 I have for sale a James Saddlery Santa MK III stock saddle in "as new" condition only having been used a few times and is now surplus to requirements. There is a Certificate of Authenticity with the saddle with a registered ID number stamped on t...
Black bates Kimberly swinging fender, 17" seat brought a year ago brand new. Hasn't had much use a little bit of a mark on bottom of fender near stirrup from boot. Kept covered and inside. Is flocked, interchangeable gullet system and is curre...
For sale Black leather jumping saddle Is in excellent used condition 16.5inch seat All girth points are in great condition Comes mounted Lovely saddle to ride in and is in great condition. Always well looked after Please see meas...
Bates black all purpose saddle, approx. 16.5" (not Cair). Fully mounted, very good condition, has had little use. Saddle no longer required, as no longer able to ride. Always stored indoors. Stand included.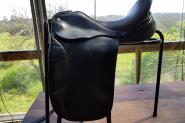 Beautiful Ainsley dressage saddle Vanguard popular size 17 1/2. Made in England. Come with a 60cm lamicell girth. Selling due to have only ponies. Pick up Macclesfield Vic