65 Listings For Sale in All States
6 month old float, 2 horse angle load in excellent condition. Has only been used a handful of times with 6 months current NSW rego. Good to tow, and is set up with electric breaks, interior lighting, 4 outside tie up points, stallion head divider...
Down N' Dusty Loot PHAA 16751, APHA 1,458. Red dun overo Paint colt. DOB: 27/10/17 PSSM negative. Sire: First Down Imp USA (dec) Dam: Shasta Be Loots by Loots Image Imp USA (dec). Dusty has been lightly shown as a weanling and yearling and has ...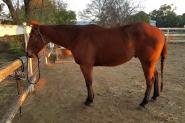 'Jabelle EasyJack' (A3 -887) is a 15.3hh, rising 4yo bay QH gelding. 'Jack' is a quiet steady horse with a very solid foundation and is a pleasure to ride. He has a very soft snaffle mouth, great stop, responsive to leg aids etc. He is sired by th...
Lago Park Golden Image Outstanding 6yo buckskin mare 15.3hh Sire: Lago Park Zeus (WB x TB) Dam: TB x SH Mare Grandsire Dam: Gold Mine Mirage Grandsire Sire: Copabella Visage 'Foxy' has attended clinics, team penning and overnight bush ...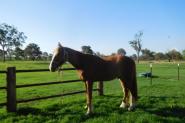 donnybrook leo is Clydesdale cross. is exceptional eventing prospect,very forward mover,beautiful soft horse to ride,lovely intelligent nature, this horse will excell in any discipline , given his age he has done some miles,been droving and don...
Sunny is a chestnut welsh mountain pony. He is broken to both saddle and harness. He is easy to catch, float and shoe. Sunny has a lovely nature and loves to be around people. He has no vices and is suitable for a second pony for a young rider or ...
'Sahara' is a beautiful 15 year old, 14.2 Crabbet Arabian gelding. He has done pony club, C certificate, adult riders, show jumping, cross country and trail riding. He is perfect for a capable junior or small adult looking for a new pony to grow i...
It's with a very heavy heart that I'm offering my lad for sale, through absolutely no fault of his own. He without doubt has been my horse of a lifetime! Due to several factors this year I've not managed to do much with him besides the odd h...