216 Transport For Sale in All States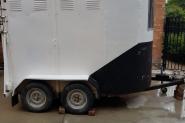 Double horse float in good condition. Road worthy but unregistered due to lack of use. Good tyres, suspension overhauled, hydraulic brakes overhauled, new hardwood floor and new rubber on ramp and floor, safety barrier on front window, canvas se...
Campermates is a fast growing Australian-owned company with over 3 years experience, we aim to be at the frontline of the trailer industry and seeing many kinds of trailers, we are now importing the luxury edition straight load horse trailer range...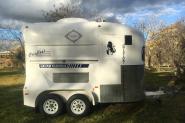 2009 Grand National Crisfloat, 2 horse straight load with moveable divider. Excellent condition inside and out. Electric brakes, LED lights inside, Large tackbox with 2 saddle racks, air vents inside and on top, water tank with hose and tap, head ...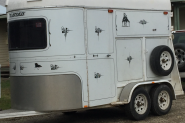 2007 Ranchman Australian made double extended float, filled in drawbar, electric brakes, fully removable interior, vic rego till July 2018, , interior two door cupboard with one saddle rack in, overhead rug rack , breeching gates. , barn doors, ph...
2009 Olympic horse float. Extended 2 horse angle load with very wide bays. Swing out tack box with three saddle rails. Storage at the front and above tack box. 2x double up yards attached on the side which are easy to set up. Thule wind out annex ...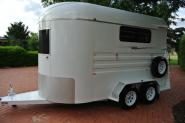 KARA KAR 2HA Std Warmblood Float: Manufactured in 2006, this float is in excellent condition and has seen little use Being a Warmblood model the dimensions are larger than standard: bay length - 2750mm, bay width - 725mm, internal length - 3800mm...
FEATHERLITE White 2 angle horse gooseneck, a strongly made trailer, very good condition inside and outside out, will not rust, the home away from home trailer with a 4 burner gas cooking plate (2 gas bottles) , sink, fridge/freezer, loads of cupbo...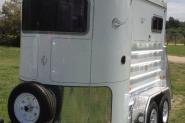 Horse Float for Sale - Rowville Traveller 2 HSL Float. Build date November 2013, first registered January 2014. Used less than a dozen times since we have owned it so near new condition. 12 months rego. Great Float, never had any issues but need ...